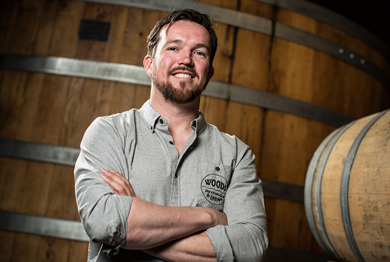 Woods Brewing Company was conceived in 2004 by homebrewer Jim Woods after he fortuitously followed a sip of freshly brewed yerba mate, the South American herbal tea, with a hoppy pale ale in his San Francisco apartment. No stranger to creating his own beer recipes, sparks flew as the flavors of yerba mate, hops and malt came together to create a delicious and truly unique beer drinking experience.
Determined to bring his one-of-a-kind yerba mate ale to life, Woods worked tirelessly to perfect his new brew. After almost two years, he found himself approaching Butte Creek Brewing Company, a small, certified organic microbrewery in Chico, California to brew his MateVeza beer. Butte Creek brewed the first batch in November of 2006, making it the first beer brewed with yerba mate in the world.
While working in San Francisco in commercial real estate, Jim promoted the beer on nights, weekends, and vacation days. His hard work paid off, and three days before his 29th birthday, Jim left his full time job and set out to bring his organic, naturally caffeinated yerba mate ale to the masses. In 2011, Jim Woods became the first brewer to receive a loan through the Samuel Adams Brewing the American Dream program and used the capital to expand capacity meet the growing demand.